If I'm being honest, I never invested much into my skincare routine until my early 30's. In my 20's I never really thought much about the products I used on my face, I always just trusted my mothers recommendation (who to me seemed like a skincare guru at the time). However, things changed about six years ago when I started working with Dermatologist Dr. Amy Vaughan, owner of Amy Vaughan Dermatology, by managing her social media and marketing for her office. This is when I truly learned and became aware of how important daily, weekly, monthly and quarterly skincare routines are for keeping your skin beautiful and healthy. (If there is one goal in life, it would be to have flawless skin like Amy!)
Over the last six years I have learned that SPF is your best friend as well as your nightly serum and daily moisturizer. Since working for Dr. Vaughan, I have been blessed to learn about medical grade skincare products and appreciate their value. I have learned that investing in high quality products is something you won't regret later in life. Let's face the facts, your skin's elasticity and collagen production begins decreasing in your late 20's to early 30's and the effects of this on your skin becomes very visible in your mid 30's (at least it did for me).  And I will be the first to admit, this is one area I struggle to accept in life and vow to do what I can to stay looking like I'm 30 instead of approaching 40. (Please don't judge me.)
I think many women can relate to this feeling though, which is why I'm sharing what I've learned. Over the last few years, I have invested heavily in luxury skincare products to be proactive against aging. But never did I see improvements in my skin like I have recently with Serucell. I have been using this serum for a little over two months now and it's the first time I feel like a can visually see a difference in my texture from a serum!
Serucell's President and CEO Jennifer Hessel (also known from her previous position as former CEO of L'Oreal Paris) was recently interviewed by WSAZ's Studio 3 explaining more about the Serucell Corporation and why it is revolutionary for the beauty industry.
"It is a luxury skincare brand based in Huntington, WV and was founded on bio-cellular, molecular research and technology. It is an advanced science skincare brand. Developed by Dr. Walter Neto, a bio molecular research scientist, who was doing a lot of work in the area of burn and wound healing, discovered how the cells of our skin actually communicate," said Hessel.
A serum backed by science and is making a path for itself in the beauty industry. Getting noticed by beauty experts already such as Lily Garfield, founder of Cos Bar (a luxury multi-brand beauty retailer founded in 1976).
"A friend introduced me to this serum about a year ago before it was even available…and it's the mega serum of all serums. It's the best serum I have used to where it will literally change the texture of the skin," said Garfield.
(I can 100% agree with this statement, especially after seeing my VISIA results (which is a camera that provides a computerized skin analysis). In just two week's I could see a difference in my skin, it radiated a glow that it did not have before, and I knew it wasn't just in my head after other people started telling me how great my skin looked.)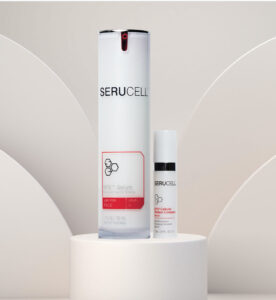 Serucell is different, period. The science behind it from a molecular level separates it from other serums. It's incomparable really; a new kind of skincare. The KFS Cellular Protein Complex in Serucell reaches the lower layers of the skin to improve intercellular communication, which in my opinion, makes it a first in its class for "under the skin care." It is the first and only dual-cell technology product to harness the power of both Keratinocytes and Fibroblasts with it's KFS Cellular Protein Complex. The patented KFS complex contains more than 1500 unaltered proteins, peptides, anti-oxidants, hyaluronic acid and vitamins A, C and E. The key nutrients are small enough to reach the lower layers of the skin, hydrating, nourishing and improving intercellular communication— literally rejuvenating the skin from the inside out.
In my personal opinion, I think Serucell should be a master serum for everyone. It is an all-in-one serum made for all skin types that strips and repairs the skin with retinol and growth factors.

 

Its powerful protein fusion inspires deep rejuvenation, from foundation to surface, which is why I could visually see a difference in my face. Your skin will radiate a glow that you have never seen before! 
My nightly routine with Serucell goes as follows: wash face, cleanse any remaining make up off with a toner, use two pumps of Serucell and massage into face and neck area. Generally I just apply Serucell, however it does have retinol in it so sometimes I will apply a moisturizer after the serum settles in if I feel like I need more hydration.  No matter what you do, you definitely want Serucell to be the first thing applied to your skin for maximum cellular communication and delivery of nutrients.
This will always be my "master serum" after seeing my results. And I wanted to share my eight week results from the VISIA camera analysis, so you guys can see for yourself just how great this serum works. (Please see below for more information on VISIA and ways you can purchase Serucell.)
You can visit Serucell to purchase online or luxury retail stores such as Neiman Marcus, Bergdorf Goodman, Cos Bar as well as locally at Amy Vaughan Dermatology.
If you are local, I highly suggest doing a complimentary VISIA consult at Amy Vaughan Dermatology or looking into who offers it in your area. At AV Dermatology the consult is completely free and you can receive 20% OFF your recommended products. During the VISIA Skin Analysis you can learn your percentage of brown spots, wrinkles, texture, pores, UV spots, red areas and porphyrins. After the computerized evaluation is complete, a cosmetic specialist can create a personalized skin care routine from their medical grade skin care lines. And yes, they carry Serucell! (Retails for $225)
Thank you for your time and stay well!
Erica Deligne