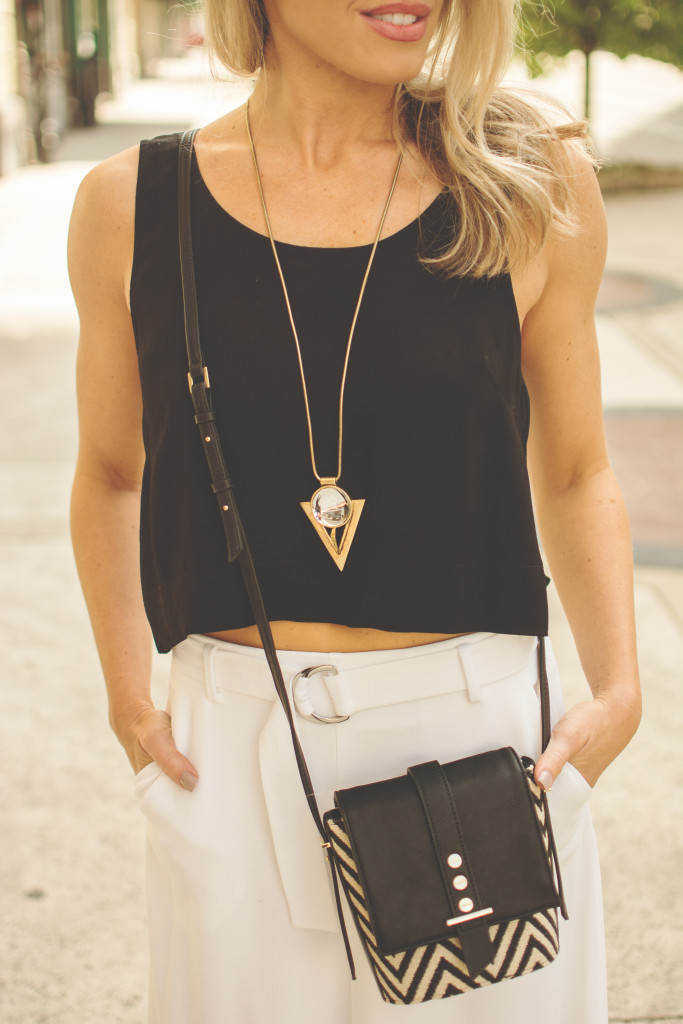 All images by Courtney Christian, Courthead Does Photography
SHOP THIS LOOK:
Mink Pink tank @Village Collection or similar here    :    1STATE midi skirt @Village Collection or similar cheap here, expensive here    :    Jenny Bird necklace @Village Collection or here    :    Big Buddha mini crossbody purse @Village Collection, tote size here    :    Wildfox aviators, similar here    :    Antique fedora, owned by my Grandfather William C. Turnbull    :   Birkenstock sandals, similar here in white
Order items from Village Collection and get 10% off using code DD10, call 304-525-2204. They ship anywhere!
---
This look is probably one of my favorites to date. Nowadays in the fashion world it is all about pairing the unexpected together, just like this midi length skirt by 1STATE with my favorite pair of Birkenstock sandals. Let's face it, a year ago I probably wouldn't have paired my Birks with this skirt, I would have automatically thought wedges or heels. But, the unexpected factor is what's generating great looks this SS15, so if you don't own a pair of flat sandals like these Birks here, go ahead and buy yourself a comfy pair to sport around in and pair with culottes, midi skirts, maxi dresses, knee length shorts and much, much more.
When it comes to crop tops, I usually don't wear a lot unless it is with something high-waisted. This Mink Pink tank was perfect because it wasn't too short and met with the skirt right where I wanted it to (not showing much of the midriff area). The Jenny Bird necklace is the perfect laid back statement necklace for this ensemble. Long necklaces are great to wear with solid pieces to create more of an interest, and generally you want to wear a stud earring when wearing long statement necklaces (anything else just looks "too much"). These Kate Spade studs are my favorite.
The Big Buddha mini purse was a PERFECT choice for this look. I love the black and cream stripes, which really became the focal point of the outfit due to everything else being a solid color. Lastly, but not least, is my favorite hat of all time, my grandfather's old fedora. This accessory I will always have and cherish. I looked up to this man so much that it almost provides me a sense of power when wearing it, if that makes sense? Lol. Anyway, until next time…
Always be kind,
Erica