Click here to watch Erica highlight local businesses for holiday shopping on Studio 3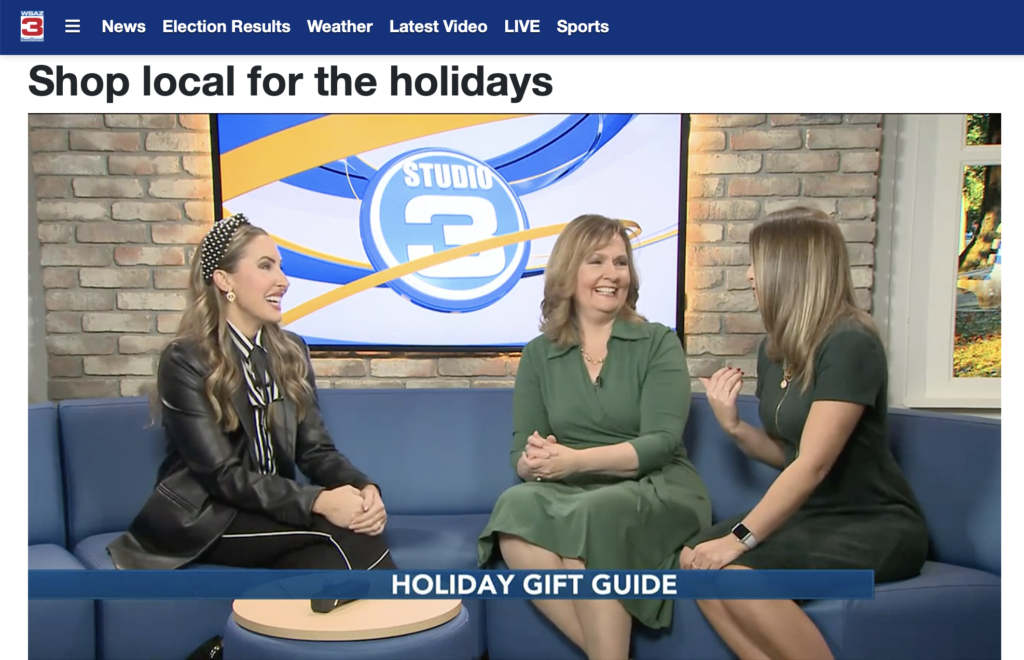 Click here to watch Erica talk about best Mother's Day Gift Ideas on Studio 3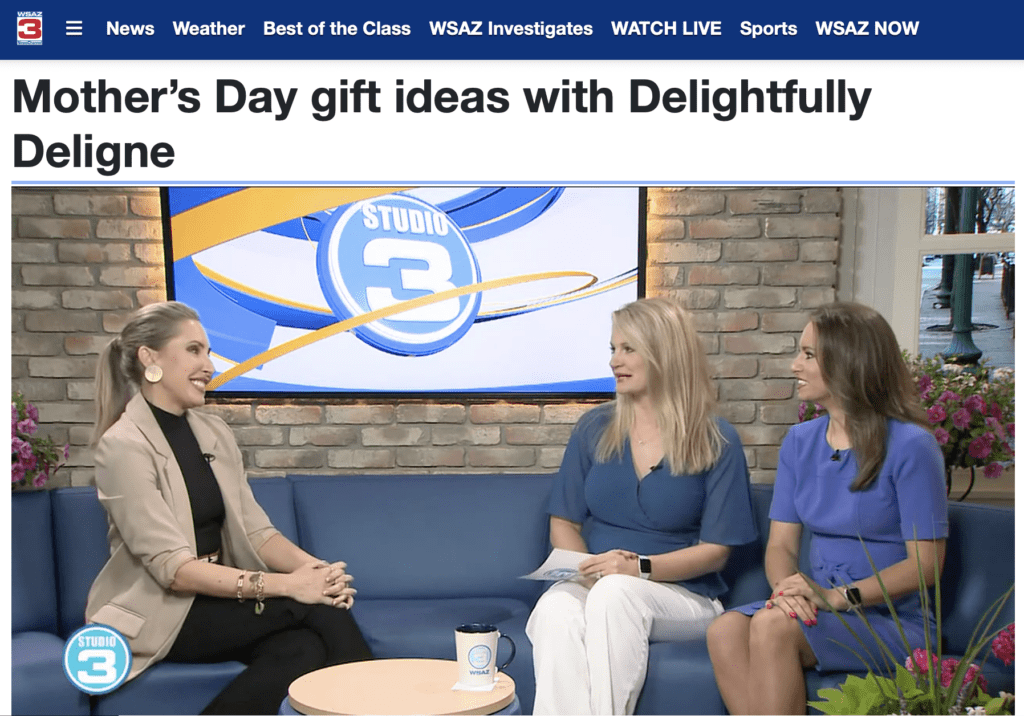 ---
Click here to watch Erica Deligne highlight her holiday gift guides on Studio 3
December 2nd, 2020
---
---
Click here to watch Erica Deligne talk about her journey with Serucell on Studio 3
---
---
Click here to watch Erica Deligne present Fall Trends for 2020 on Studio 3
---

---
---
Click here to watch Erica Deligne present BTS segment from NYFW Designer Randi Rahm's Collection on Studio 3
---
---
Click here to watch Erica Deligne presents Valentine Day outfit options on Studio 3

---
---
Click here to watch Erica Deligne present Holiday Gift Guides on Studio 3
---
---
Click here to watch Erica Deligne present Holiday Party Attire on Studio 3
---
---
Click here to watch Erica Deligne highlight best Thanksgiving outfits this season on Studio 3
---
---
Click here to watch Erica Deligne recap VC Boutique Fashion Show on Studio 3
---
---
Click here to watch Erica Deligne share her favorite designers from NYFW on Studio 3
---
SHE KNOWS.com
read full artilce here: http://www.sheknows.com/beauty-and-style/articles/1058643/10-cute-holiday-outfit-ideas-on-instagram
10 Holiday outfit ideas spotted on Instagram
@delightfully_deligne
---
Spring Trends HQ Magazine, April issue 89
Gear up for Spring with HQ's new fashion section.
By Erica Deligne
Spring … the season of rising temperatures, singing robins and blooming flowers all imparting new beginnings – and new life to every woman's wardrobe. As Spring arrives, most of us women begin analyzing our closets to give validation to current items. While spring is a time for rejuvenation, don't jump the gun on removing all sweaters and fall colors. The 2015 spring season (SS15) trends are accepting of almost all color tones and hues of the color palette. The SS15 runway shows have top designers featuring everything from bold colors with color blocking details at Balmain and Alexander Wang to monochromatic looks in pale pastels at Balenciaga and BCBG Max Azria, as well as decadent rich fall colors with retro vibes at Saint Laurent and Gucci.
So, what's a woman to do with all of these choices of color? Be creative. Mix seasonal wardrobes together. Hold over some of those lightweight sweaters and fall-colored skirts and trousers, then make a list of items you need to complete a look for SS15.
The following are highlighted trends of SS15: gingham print; kimono; '70s-inspired and high-waist pants; suede and fringe; all black and white combinations, as well as blue and white; jogger pants and culottes; monochromatic detailing; midi-length skirts; urban military chic; and lastly, the obi belt, which is a knotted belt around the waist.
To make things easier for the local fashionista, you can shop the following looks I've put together for SS15 from Huntington's local boutique, Village Collection. Until next season, enjoy!
MILITARY INSPIRED

JOE'S jeans: $179
Sanctuary jacket: $149
R.D. Style white button down: $62
Sam Edelman booties: $130
Cezar Mizrahi Designs book bag: $225
La Mer watch: $110
Golden Stella belt: $18
Little Hawk necklace: $51
Golden Stella rings: $24
---
THE JOGGER PANT

Bella Dahl jogger pants: $150
Gypsy shirt: $165
Patricia Luca blazer: $180
Seychelles sandal: $130
Foley and Corinna purse: $425
---
BLACK & WHITE

French Connection shirt: $98
BB Dakota jogger pants: $78
Seychelles two-strap sandal: $130
Foley & Corinna purse: $325
BCBG Max Azria earrings: $58
La Mer watch: $110
---
THE GINGHAM PRINT

Splendid top: $138
BCBG Max Azria denim skirt: $158
Sam Edelman gladiator sandals: $100
Michael Stars hat: $48
Hobo mini book bag: $188
Little Hawk necklace: $51
Golden Stella rings: $24
---
RETRO VIBES: '70s INSPIRED

Model: Erica

BCBG Max Azria cropped denim top: $158
1 State romper: $138
Sam Edelman gladiator sandals: $100
Cleobella fringe clutch: $159
Michael Stars hat: $54
La Mer watch: $110
Vanessa Mooney earrings: $66
stud bracelet: $110
small arrow bracelet: $84

Model: Beck

Uncle Frank dress: $113
Cleobella fringe purse: $398
Jeffrey Campbell sandals: $190
Golden Stella hoops: $12
---
THE KIMONO DRESS

BCBG Max Azria "Bryna" dress: $248
Jenny Bird earrings: $60
Liza Kim bracelet: $11
---
THE MIDI SKIRT

Sam Edelman skirt: $149
Sam Edelman deco top: $79
Jeffery Campbell pumps: $145
Mary Frances purse: $152
Golden Stella pyramid stud earrings: $11
bracelet: $20
For more style advice from Erica, visit her blog, Delightfully Deligne, at www.delightfullydeligne.com.
Instagram account: delightfully_deligne
Twitter: DelDeligne
All images by Courtney Christian, Courthead Does Photography. Hair by Elise Lycans from Luxe Salon.
Models: Erica Deligne and Beck Yewchuk
The Heral-Dispatch Newspaper
March 22, 2015
http://www.herald-dispatch.com/business/x294263805/Personnel
Local blogger named fashion editor of Huntington Quarterly
Huntington Quarterly's spring issue will feature a new fashion section with Huntington native and style blogger Erica Deligne as the fashion editor.
Each issue will include tips on what to wear, highlight top trends of the season and include photographs of outfits styled by Deligne that can be purchased locally.
Deligne is a lifelong resident of Huntington and a graduate from Marshall University with a Bachelor of Arts in journalism. She is the creator behind the style blog, DelightfullyDeligne.com, which began as a hobby due to her passion for styling and fashion.
Deligne also showcases stylish "Huntingtonians" once a month on her blog by photographing locals who catch her eye. The Huntington Quarterly's first issue showcasing Deligne as its fashion editor will be published and available the first week in April.
For more information please visit delightfullydeligne.com or huntingtonquarterly.com.
---