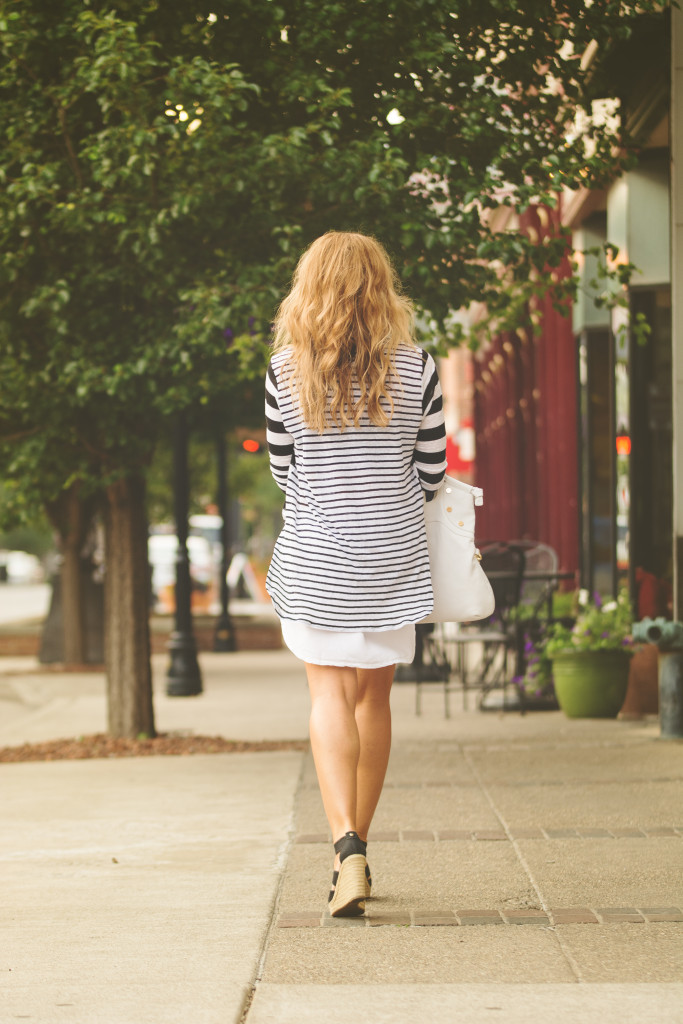 All images by Courthead Does Photography, Courtney Christian.
SHOP THIS LOOK:
Red 23 top @Village Collection or here    :    Bella Dahl skirt @Village Collection or here    :     Foley+Corinna purse @Village Collection or here    :    Michael Kors wedges here    :    Kendra Scott necklace @Village Collection or here    :    Michael Kors watch, old
---
Everyone says that the 30's are the new 20's—really? It wasn't until this year, age 32, that I received my first dose of cellulite. Why do people say 30's are the new 20's?? My body used to bounce back ASAP when working out, now I have to work harder—where's the fun in that? The 30's are not the new 20s. Enjoy every bit of your 20's young ones because once you hit 32 things start to change…
Being in my 30s and having things positioned a little bit differently, I generally buy things a little bit oversized. It helps to make you feel good when looking into the mirror and you say to yourself 'Wow, this shirt swallows me!' Just kidding (but MAYBE half serious). Buying things oversized is great. You don't have to worry about those bloated days while on your –you know what—things just flow and you don't have to fret about the cling.
The good news is, is that style trends these day have everything flowing a lot more. Everything a little bit oversized is respected these days. Form fitted everything is a thing of the past. I loved pairing this (one size too big) Bella Dahl skirt with this oversized light-weight, black and white striped sweater by Red 23. There is something about wearing everything oversized that makes me happy. So cheers to OVERSIZING, making everything feel better. Make sure your next purchase is the next size up 🙂
Until next time.
Always be kind,
Erica