There is no denying that designers are known for certain vibes, especially in their runway collections. Alexander Wang has always been about some edge. His recent women's FW15 Ready-to-Wear Collection has spunk, goth, mystery and a little bit of 90's grunge love going on; every single model came out in all black attire. Granted, an all black look never photographs very well, it's hard to see the details in the fabrics, so I don't think it was the greatest decision on his part, but it definitely left people talking. So I've mixed things up for my grunge look, throwing a little 'tude in with it, so to say…
Mixing classic staple pieces, such as this all cream dress by Tart Collections with this plaid Equipment blouse creates an unexpected combo that works. Paired with black caged heels by Vince Camuto and a rocking black Rececca Minkoff purse with bold silver accents, says modern 90's grunge in a good way. Think about what basic staple pieces you have in your wardrobe and think of how you can spice it up by adding some edgy pieces, such as leather, lots of silver jewelry, chains and plaid. Remember to not go over kill. Keep it modern and simple, yet chic. 
Sorry for the sporadic posting! I've been super busy, but once things quiet down I will be more consistent, promise! xx 
Thank you for your patience 🙂 Until next time.
Always be kind,
Erica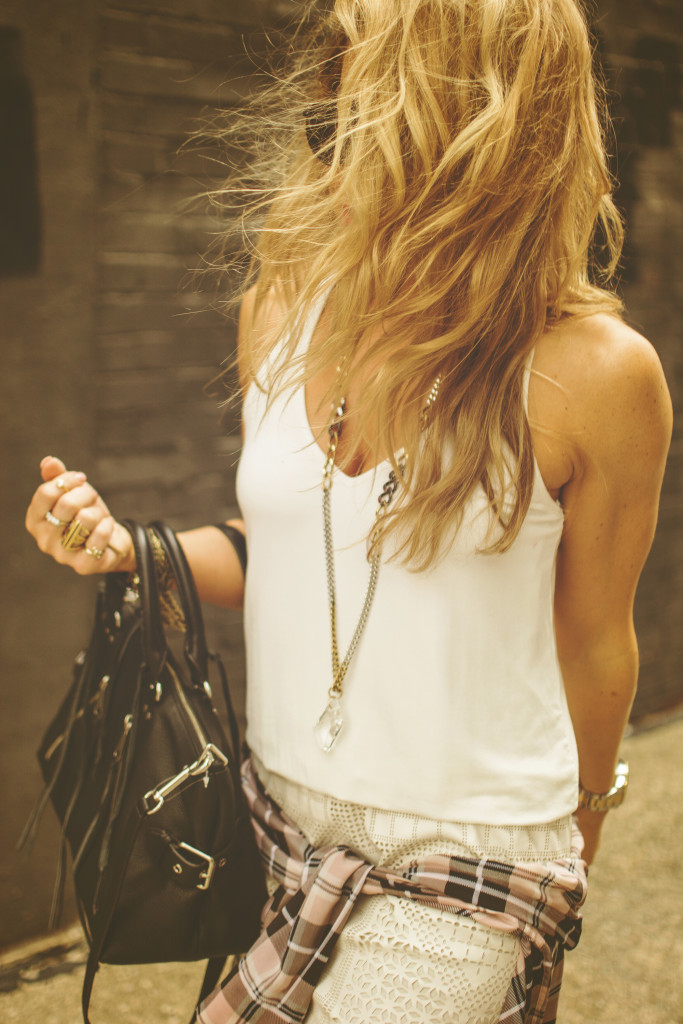 All images by Courthead Does Photography, Courtney Christian
SHOP THIS LOOK:
All clothing from Village Collection boutique. Shop by calling 304-525-2204. Give code DD10 for 10% discount.
Tart dress @VC,  similar here   /   Equipment blouse here   /   Rebecca Minkoff purse here   /   Jenny Bird ring here   /   L. George Designs necklace here   /   Vince Camuto shoes similar here