Fall brings so much excitement to life. If you think about all the football games, tailgates, Halloween, Thanksgiving and especially the fall foliage, the autumn season begins to seem like a best friend. A friend that comes and goes, adding events to the calendar and pushing out our summer wardrobes.
This fall the fashion Gods prove to be inspired by anything of the past. This Fall/Winter season (FW15) gives new meaning to the phrase "everything comes back in style." Whether it be high neck tops inspired from the Romantic Period or rich fabrics from the Victorian Age, finding inspiration from past centuries, such as the 1800's, is okay in 2015! But, with all due respect, one decade remains to be holding on strong with it's influence– yes, you are correct–the liberating 70's continue to influence many high-fashion houses and it's trends are dominating retail stores everywhere.
Nothing portrays a fantastic 70's look like a good pair of lace up, knee-high boots. These Jeffrey Campbell boots are so comfortable, and I could probably pair them with 10 outfits in my head right now. I want to wear them with everything! Here, I paired the boots with a Chole Oliver dress and a cranberry Michael Stars wide brim fedora. Like I always say, you can't go wrong sporting a stylish hat, it exudes confidence with taste and class. So if you ever have the itch to wear a hat, but not so sure of it, please do. TIP:  I suggest buying hats in neutral colors such as beige, tan, black or brown to pair with more looks. However, if you want a hat to be the statement piece of an outfit, then do a bold, bright color to make the perfect exclamation mark to your look.
Want to recreate your own 70's look, but not sure of what's a good retro look? TIP:  Find inspiration by googling icons from the 70's such as Mary Tyler Moore, Farrah Faucet, Jane Fonda and Suzanne Summers. And remember to just have fun with it and always be comfortable in what you wear. "Style," is all about you, what you like and how you feel. Enjoy dressing yourself! 🙂
Until next time.
Always be kind,
Erica
All images by Courthead Does Photography, Courtney Christian
SHOP THE LOOK BELOW…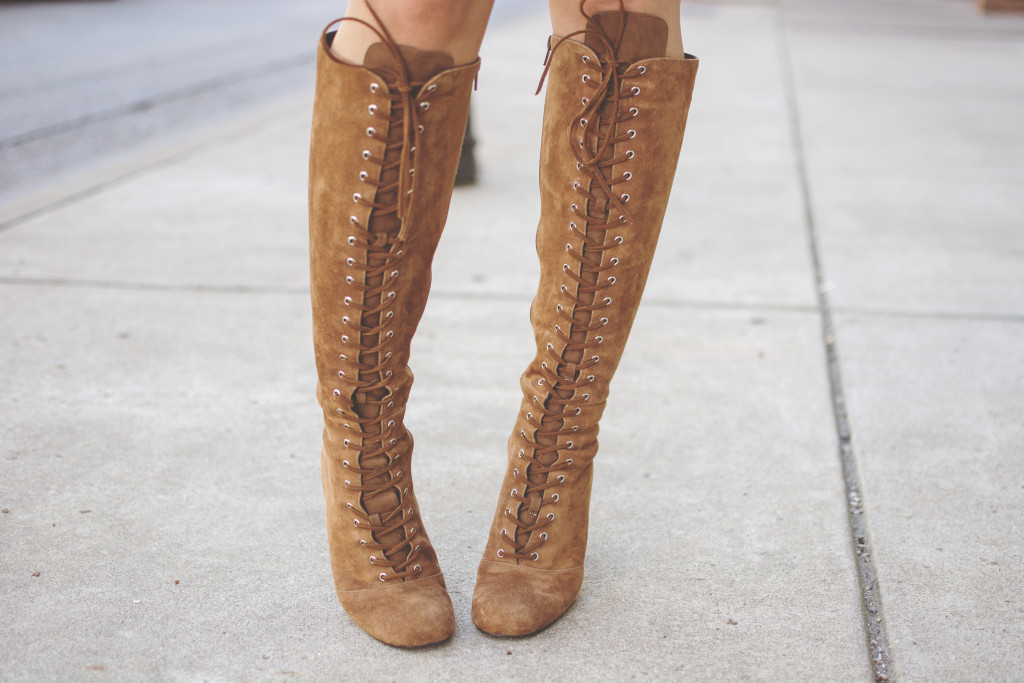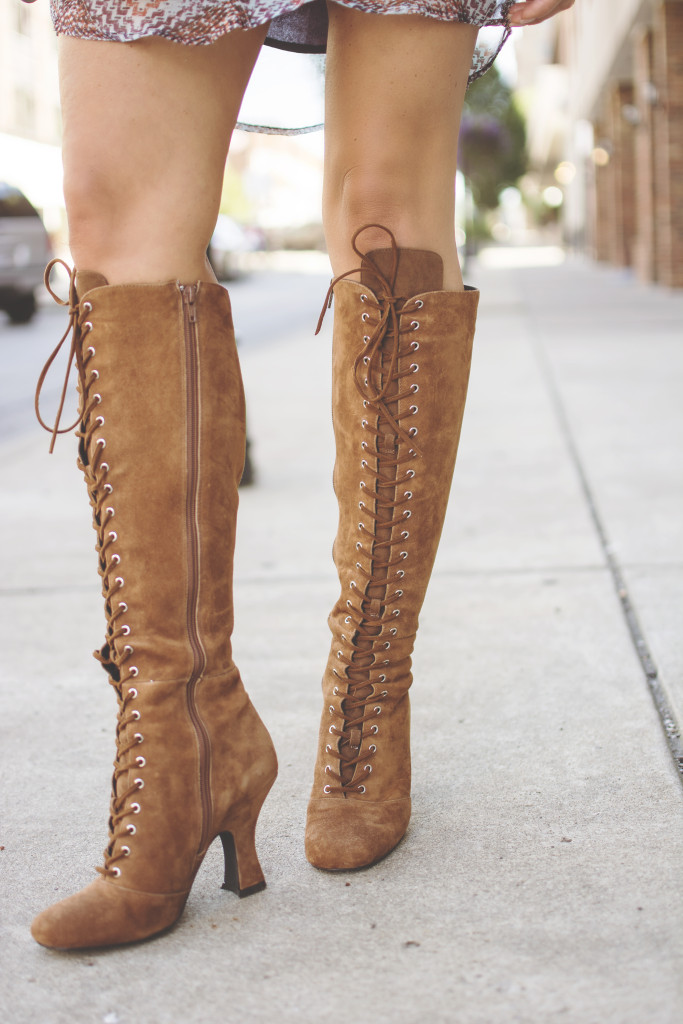 SHOP THIS LOOK:
All items are available at Village Collection boutique in downtown Huntington. Shop with a 10% discount and give code DD10. If you do not reside locally, call 304-525-2204 to purchase by phone, they ship ANYWHERE!
Or shop links below:
Chole Oliver dress only at VC, similar retro look here   /   Jeffrey Campbell lace up boots here   /   Michael Stars wide brim fedora here   /   Jenny Bird long necklace here   / Jenny Bird short necklace purchased from ROCKSBOX, sign up for Rocksbox ! It's like renting designer jewelry as much as you like for only $19/mth, and you can opt to buy the pieces you love! Use code ericadelignexoxo to get your first month FREE!