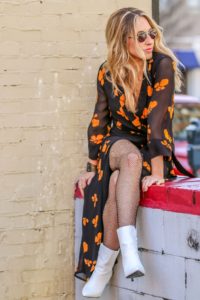 Hello…
My name is Erica Deligne (pronounced Duh-line) and I chose the name Delightufully Deligne for my blog based on my personality. I see the upsides and opportunities to everything in life and every day I smile to others in passing and say hello. Kindness is free and it improves the world. My motto is to "Always be kind" and help others out, especially when you know you can.  
I blog mostly about life with a self-improvement mentality to help guide others to a more positive way of thinking. For some reason, I have always been that person to read self-improvment/motivational books, but I also like to read and share about personal style and beauty tips. Like they say, most women do have a passion for fashion. 
I obtained a B.A. in Journalism at Marshall University back in 2005, and now as an entrepreneur, I enjoy seeing my degree pay off in the work that I do for content marketing and digital media. Whether it be talent for a video or creating context, I enjoy the creative side of combining journalism and marketing into a reality TV marketing experience by creating customizable videos for businesses that highlight the impact of their product on the consumer's experience through their story.
Thank you so much for stopping by Delightfully Deligne, I appreciate all of the support everyone has given me.
Until next time. Always be kind,
Erica xx
More About Me…
I am a mother to a wonderful young gentleman named, Noah, who aspires to be the next Disney child star. Needless to say, he loves to entertain. Giving him the world and providing him with the most opportunities out of life is the fuel for my drive and determination. 
I do have other interests such as being a motivator and inspiring others to live a healthy life. I like to think of my life as one of moderation; I'm not that extremist that says no to all unhealthy ideas, but one who likes to find balance in all things. I believe with age you become wiser and happiness finds you only from within, the most important relationship is with yourself. You must love yourself first before all other relationships in life flourish, both personally and professionally.
When you feel good and look good, you have the confidence to carry yourself through almost anything with pride. There comes a point, and it comes only with age, when you don't give a crap what others think and just do what you need to do for yourself- and enjoy life. Living life in the present moment is the biggest challenge we all face. My motto to life is, 'Make the most of what comes, and the least of what goes.'  
Thanks for stopping by…  🙂