It was a Monday night during NYFW when Randi Rahm presented her latest Evolution Couture/INK Collection at the PUBLIC Arts space in the PUBLIC Hotel. The event and whole experience was one for the books for sure. Watch the video below for a behind-the-scenes experience, including a one-on-one interview with the designer. (Read further below for full article.) 
Highlights from the Couture/INK Runway Show
A Monday night looked like a Saturday. All couture and full party, the Couture/Ink show highlighted Rahm's unrivaled uptown elegance cloaked in the edgy allure of downtown. "I consider my work part of a fashion evolution, not just in rotating 'collections'," has always been Rahm's mantra. Couture/Ink was a nightlife infused reflection of her motto. Saying this show was an experience is an understatement, it was a full out party with an open bar and everyone was jolly. An evening that will always be one of my most memorable moments of attending NYFW. 
The guests arrived through the garden entry and descended into the dimly-lit Studio 54 meets Moulin-Rouge inspired PUBLIC Arts space. Passing by the bar dressed in candelabras and ivy, the attendees were wowed by an opening presentation of tattoo design by Anthony Iannucci and starring Rachel Lindsay (ABC's The Bachelorette). Rahm's signature gowns, many inspired by the art of tattoo, dazzled party-goers in their sumptuous dark and gem tones that reflected the mood of the evening. The surprise couture standout was Rahm's menswear: diamond embellishments, golden suits, floor-length capes draped in chains and leather all  took centerstage.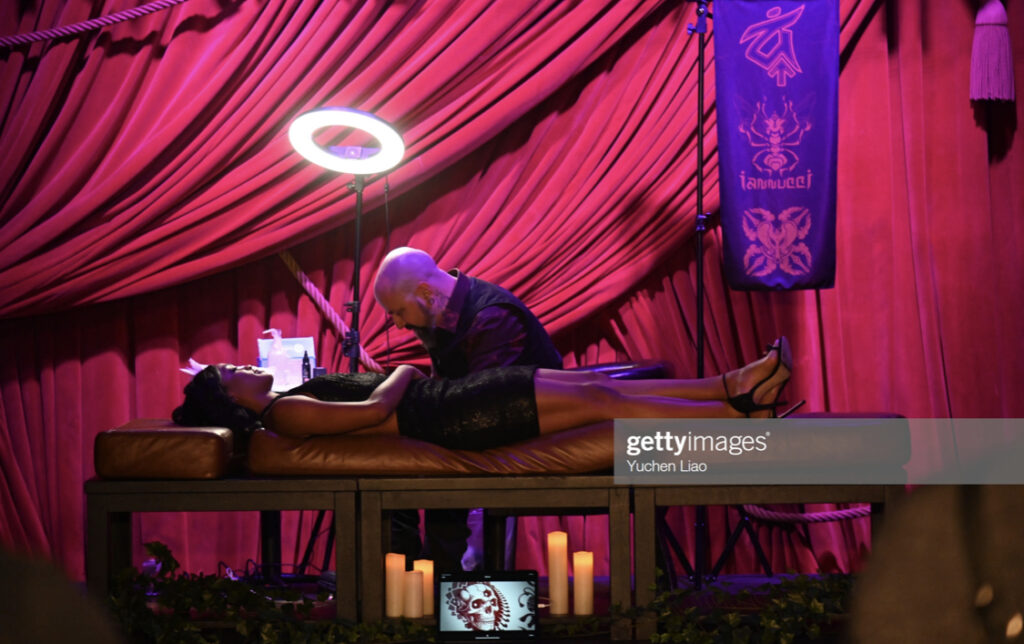 The runway show featured models of all ages, sizes, and gender identities with special appearances from guest-artists from the New York City nightlife scene.
From black work to beadwork, Couture/Ink celebrated breathtaking individuality and exacting artistry. Note-worthy attendees included: Rachel Lindsay (ABC's The Bachelorette), Jill Zarin (Real Housewives of New York), Melanie Moore (SYTYCD Winner), Mary E Bassy (Singer), Cyn Santana (VH1's Love and Hip Hop), influencer Tammy Hembrow, hair stylist to the stars Chaz Dean, and Broadway's James Brown III. The eclectically chic audience – who kept the party going way past the custom tracks from Chew FU (Rihanna, Lady Gaga), stopped spinning- mirrored the variety that is the lifeblood of NYC itself. In an age where inclusivity teeters on trend, Rahm's vision centered around self-expression. Couture/Ink reinforced an underlying, unifying message: Peace. Love. Rahm.
More Looks from Couture/Ink Show
MORE ABOUT THE DESIGNER: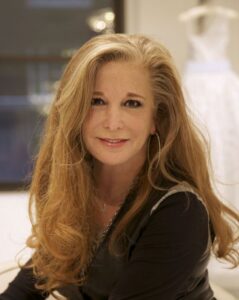 A classically trained conductor and concert pianist with degrees in art history and music, Rahm was destined for success in a creative field. Her design vision combines her love of dance, fine art, and music- a pastiche of influences which helped Rahm innovate throughout her career. Rahm has been dressing Hollywood icons,Broadway leads, elegant brides, and power women and men around the world of all shapes and sizes for over 25 years. As one of the last remaining American couture houses, Randi Rahm is proud to be made in New
York. Rahm's couture is set to be on a prominent museum tour throughout Europe and the UK come 2021, including the famous V&A museum in London.   ​