Do you ever look at your closet and sigh because you can't find anything?
I think we can all agree that this is a struggle many of us share, and since we are ALL spending a lot more time indoors these days (thanks to the Coronavirus outbreak having us all quarantined), a good closet cleaning can probably be fun task now! (I mean I'll do anything not to go stir crazy.) So here are some tips to curating that perfect closet during your downtime at home. If not a perfect closet then definitely one that's more accommodating to your needs.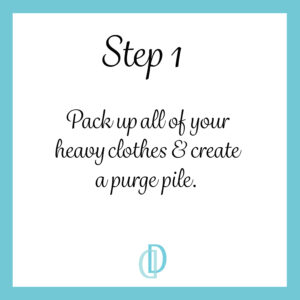 First thing to do is pack up all your heavier clothes, such as winter tweeds, fleece lined leggings, cable knit sweaters and parka coats. When doing so make sure to create a pile to be purged. Winter items that were bought in previous seasons and were not worn at all this season should definitely go into this pile for either consignment shops or Goodwill.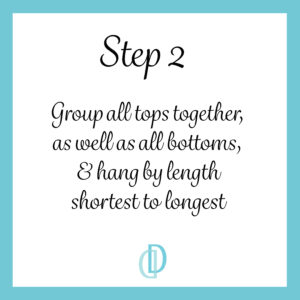 Secondly, group all tops with each other, and same with bottoms, and hang by length shortest to longest.  Beginning with the tops, you want to hang all of your sleeveless items first, then 3/4 sleeved to finally your long sleeved items. Behind the long-sleeve blouses are where heavier textiles such as blazers and light jackets should be placed. Same method applies to all of your bottom options. Start with skirts, culottes to ankle pants then full length trousers.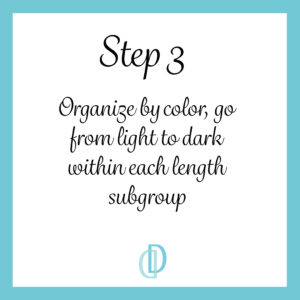 Third, group items together of same color theme. Start with light colors such as white and ivory then into beige and yellows and so on. Each color group should start with the lightest tones first and ending its darkest shade. For example, pastel tones first (ie pale pink/blush) then end with the bold rich shades (ie deep fuchsia etc). Color groups should flow as the following: whites, cremes, yellows, pinks, purples, reds, orange, blue, greens, browns, to ending with black (gotta save the best for last). This process allows you to find items quicker by narrowing down where they are located within your closet.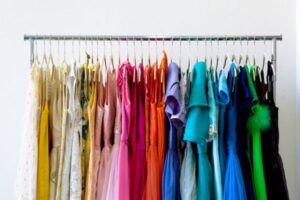 I generally recommend keeping any light sweaters that you may wear for spring folded on racks in your closet or stored away in your dresser drawers. The material of sweaters are so fragile when it comes to hangers, the longer a sweater hangs it's almost guaranteed to get hanger's nipple (that horrible stretched out bulge on the shoulder hemlines).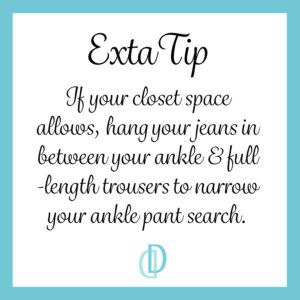 As a side note, depending on if you have a top row and bottom row, sometimes I've hung the blazers and jackets below with the bottoms, making them the first item on the bottom row. Then, I would continue with shortest to longest bottoms, starting with skirts, then ankle pants, jeans to full-length trousers. TIP: Having the jeans located in between the ankle pants and regular dress pants creates a quick visual reference. Now, when looking for an ankle pant, only a quick glance is needed to finding the perfect pair! If your closet space doesn't allow room for your jeans to hang, then I recommend ending the ankle pant section with a printed pant and starting your full-length trouser section with a solid pant or vice versa.
I wish you guys the best in curating your own version of a well-organized closet. I'm currently in the process of re-doing my own with all of this extra time being spent at home. My thoughts and prayers go out to everyone during these hard times. I pray we get some much needed good news within the coming weeks. But in the meantime, we must live presently and be grateful for what we do have. (Feel free to check out an older post of mine to help guide your thoughts, 11 Tips for Mental Clarity.) May we work together and be better as a society with unity on the other side. Until next time, God bless all of you and stay safe.
Always be kind,
Erica xx